Receptions & mariages
Unique of its kind, the castle of Marqueyssac and its 54 acres historic park reveal an ideal setting for having your celebrations, weddings, seminars and meetings.
The gorgeous surroundings, the charm of its terrace gardens give to your reception a prestige that is not comparable. In this place fitted out 3 centuries ago for pleasure and thoughts, you won't only discover the preserved nature of the Dordogne valley but also the history of Périgord.
Among many reception, those that were done for weddings are the most prestigious. Before the reception on the terraces of the château, the bride and groom can have a walk in the park which is always appreciated for the traditional souvenir photo.
A marquee whose the surface area changes in accordance with the number of guests is fitted out on the Honor terrace which overlooks the Dordogne valley. The panoramic side is made up of transparent windows, they open with the help of looped curtains in order to completely enjoy the view on Beynac castle and its village which is one of the most beautiful village in France.
Our meetings and reception rooms can be extended, they are luminous and fitted out with all the material used for seminars (projection equipment, video-tape, projector, paper-board, photocopier, etc.).
The gastronomy
Menus adapted to the seminars times
Exemple of a seminars' menu:
Medallion of duck Foie Gras,
Supreme of farm Fowl Morel sauce,
Crunchy of warm Goat (Chévre Chaud),
Iced walnut Soufflé.
Gastronomic menu:
Ballotine of little duck and its Balsamic sauce,
Paupiette de Sandre and Salmon on Butter of Nantes,
crust fillet of lamb with truffels and foie gras frying pan,
choosing of cheese,
walnut salad,
orange cake on its vanilia cream.
The relaxation activities
Discovery walk of the historic park of Marqueyssac with a guide
Morning footing on the 6 kilometers of walks
Walk on the river Dordogne with the bulbous hull typical boat:
the "gabare"
Guided visit of the castle of Castelnaud, museum of medieval warfare located in front of Marqueyssac
Hot air baloon flight
Spectacles
For your famous reception, we organize theme evening party (medieval, renaissance, barocco), the lit up of the gardens of Marqueyssac with candles or the flaring-up of the castles in the Dordogne valley.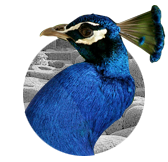 Receptions & mariages
Jardins suspendus de Marqueyssac